Book Review - Vermeer's World by Irene Netta
Vermeer's World
by Irena Netta (Pegasus Library)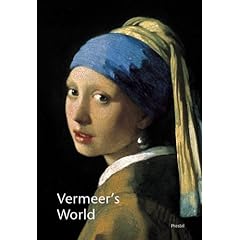 A review by NearertoGod
There are many books available on the market about Johannes Vermeer, the famous painter whose groundbreaking work, Girl with a Pearl Earring, has inspired thousands. Little is known about this elusive painter, who left no sketches, writings, self-portraits...only thirty five paintings in his oevure, all of which lead little traces to who he was, or what he was.

Irene Netta's book is small - 95 pages - but is richly illustrated and discussed. She does not talk or linger on subjects, and the reproductions are superb - crisp colors, bright, and smooth - without any fading or discoloring.

Looking past the popular misconceptions about Vermeer, Irena Netta's book is a beautiful, unbiased look at an artist who was very different from Dutch painters of his day. His paintings are simple, quiet, and sensual - they hold their grasp on you for the rest of your life. Even though Girl with a Pearl Earring is a beautiful work, we must remember that Vermeer painted more than just this work - he painted others which are great in their own right. And Netta's book does just that.
​