Imp Announcement: Re Profile page changes
Important changes to member profiles:
Member profile pages will soon be open for guests to view. You can opt to show/hide your profile information from guests at any time. Your contact details such as email address etc will still be hidden from public.

Profile picture size has been increased to 360px X 360px. See Sample

Profile pages are now customizable. You can choose background pictures, colors, change font type and size etc.
What's in it for you:
You can now use your profile page on Christian Forum Site to share your details with people outside our website. You won't need to join MySpace or a MySpace alternative for this purpose.

Christian Forum Site's strict moderation does not allow spam comments into your profile page. Comments can only be made by registered members.

Adjust your profile page privacy level as you wish:
Should you wish restrict your profile information from public:
Go to Control Panel > Profile Privacy > Adjust privacy levels > Save.

See screen shots below: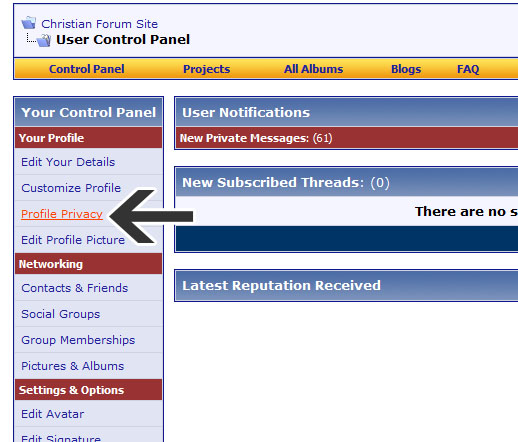 Customize the looks of your profile page:
You can now add colors and change the looks of your profile page.
Simply go to the Control Panel > Customize Profile > Preview/Save Changes.


Update, Customize and Share:
Now you don't have to own a website to share your details with your friends and family. Your profile page on Christian Forum Site serves that purpose. Just update your profile, customize the looks, adjust the privacy levels and share the link. If you already own a domain name, simply forward it to your profile page link on Christian Forum Site.


Take Care! Be Wise.
Do not leave any personal information which identity thieves can use
.
You can adjust the profile privacy levels from the control panel and restrict guests from viewing certain parts of your profile page. In case of any problem, follow this link to send me a message: http://www.christianforumsite.com/sendmessage.php