The 2008 Women Drivers Award
Yuk, yuk, but be aware of stereotypes:
Men are 70% more likely to be involved in serious auto accidents.
Men are three times more likely than women to be killed in car crashes.
It is true that female drivers are involved in slightly more crashes than men. Overall, men were involved in 5.1 crashes per million miles driven compared to 5.7 crashes for women.
But in the final analysis, men - not women, are more dangerous behind the wheel.
The 200
8 Women

Drivers Award
10th
Place Goes to:
9th
Place Goes To:
8th
Place Goes To:
7th
Place Goes To: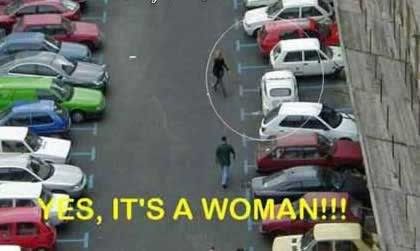 6th
Place Goes To:
5th
Place Goes To:
4th
Place Goes To:
The
Bronze Medal Winner:
The
Silver Medal Winner:
..... and finally, here is our 2008
Women Drivers Awards
***
Gold Medal Winner ***
WOW !
How the heck...?!?
Oh never mind... CONGRATULATIONS ! !
This

concludes the 200
8
Women

Drivers Awards Ceremony.
Yes… you are right adoptivemommy… this is one of the reasons I am single.