​
My slowcooker's name is Harold, and I consider him to be part of our two parent, two cat, 1 slowcooker family. I had a flash of awareness a few weeks ago where I thought about how much Harold does for us, how much we
rely
on him for sustenance during those long and busy work weeks, and calling him "The Crockpot" or "That Slowcooker" just seemed like a little bit of a slur. He's not
just a crockpot
, he's also my personal chef (who always knows when the meat is done, thanks to the handy thermometer he carries around), kitchen sanity, and general good time man. Better yet, he makes barely any mess in my kitchen, and he's always waiting and ready with a hearty dinner when we get home from work. Harold, we love you. We appreciate the things you do.
Although traditionally pulled barbecue is done on, well, a BBQ, that's just not going to happen around here on a regular basis. I mean, there's always that inherent
possibility
that I will break down and slow cook a pork shoulder outside on a sunny Sunday afternoon, but when it comes to foods that take 4-8 hours to cook in a device that can't just be left alone while you toddle off to work, I don't have time for that. But that's okay – I don't need to slow cook meat for hours on end.
Harold will do it for me.
I'm telling you, he's a gem.
Pulled pork sandwiches are like kryptonite for me. Just the smell of slow roasting meat in a sweet and slightly spicy BBQ sauce, and I get all weak-kneed and slack jawed. Resistance is futile, and one can only hope that I have time to tie on a plastic bib before throwing myself at the picnic table. That said, I've been trying to look for lighter options in our day to day casual eating fare, and a big, fatty, delicious pork butt just doesn't always fit into a healthy eating regimen. Once in a while the pig has to go waddle back to his sty to make room for our fine feathered friends. Pulled chicken and turkey are just as delicious as pulled pork (frankly, it's all about the BBQ sauce in my book) but a significantly healthier option when you're making it in a slow cooker where the fat can't just drip away.
As for the gently spicy maple laced BBQ sauce? Well, we're Canadian, eh….
Maple BBQ Pulled Chicken
Serves 6-8
2 kg (4.5 lb) bone-in chicken pieces *
1 large yellow onion
4 cloves garlic
3 serrano chili peppers **
1/4 cup + 1 tbsp tomato paste
1.5″ chunk of ginger
1 tbsp chipotle chili powder
2 tsp cumin powder
1.5 tbsp smoked paprika
2 tbsp oregano
2 tbsp Dijon mustard
1/3 cup packed brown sugar
1 tbsp worcestershire sauce
2 tsp fish sauce
3/4 cup maple syrup
1/2 cup red wine vinegar
1/4 cup water
Salt and pepper to taste
* It's nice to use a blend of white and dark meat, so I used about 3 large breasts and 3 chicken legs/thighs. Pulled turkey is absolutely fabulous, and if you like you can substitute 2 medium bone-in turkey breasts (about 1 kg each) for the chicken pieces.
** Jalapenos are a good substitute if you don't have serrano peppers.
Cut the top off the onion and peel it. Grate the onion and put the pulp into the ceramic dish of your crockpot.
Finely mince the serrano peppers and add let them join their friend, the onion.
Grate or finely mince the garlic and peeled ginger. Add these, along with all of the remaining ingredients (except for the chicken) to the dish.
If your chicken pieces have skin on them you want to take it off. Ditto for any large chunks of fat. A little bit of fat won't hurt, but do your best to clean the meat.
Snuggle your chicken pieces under their delicious blanket of sauce, making sure that they are nicely submerged.
Set the crockpot on a low heat setting and let the chicken cook slowly for 6 hours. Sure, things aren't really looking appetizing at this point, but the
smell
wafting out of your kitchen when you get home, well, that's nothing short of work night magic.
Use a large shallow spoon to scoop as much fat off the surface of the sauce as you can.
Carefully pull out the chicken pieces and set them aside. At this point the chicken will literally be falling off the bone, so try to be gentle when lifting it out or you'll leave the bones behind. Oh yes, and speaking of bones, chicken has a lot of them. After all of the chicken pieces are out of the pot, carefully spoon through the sauce to make sure that no wee bits of mangy bone were left behind.
Shred the chicken into chunks and strips. The civilized way to do this is to use two forks, which I try very hard to do for at least 3 minutes…..but then as soon as the chicken is cool enough to handle I give up and just tear it with my hands. You may feel like a bit of a Mongol Lord, but it's faster, more efficient, and you get to feel through the meat to make sure no bones get carried away with the flesh.
Add the shredded chicken back to the sauce and give it a stir to make sure that it's well coated and warmed through. You may want to keep the slow cooker on low to simmer the meat in the sauce for another 20 minutes, but that's entirely up to you.
Mound a generous spoonful of your saucy pulled chicken onto a crusty kaiser role and garnish with mustard pickles if you feel the yen.
What are mustard pickles, you ask? Well, my friend, mustard pickles are another strange sounding but delightful product from our neighbors in Quebec – yes, the same people who brought us french fries smothered in gooey cheese curds and rich gravy. If nothing else, the existence of
poutine
is a sure sign that those Francophones know what food is all about. Mustard pickles are just dills which are packed in a slightly sweet yellow sea of prepared mustard instead of a sour, garlicky brine. Pickles and mustard together
in one jar.
Now that's just streamlined sandwich making, right there.
Pulled barbecue sandwiches are just calling out for coleslaw, and it would be a shame to ignore that culinary plea. We went for a sweet and savory coleslaw, studded with dried cranberries in a tangy blue cheese dressing. I don't usually make a creamy coleslaw, but this one I could gobble up with a pitchfork.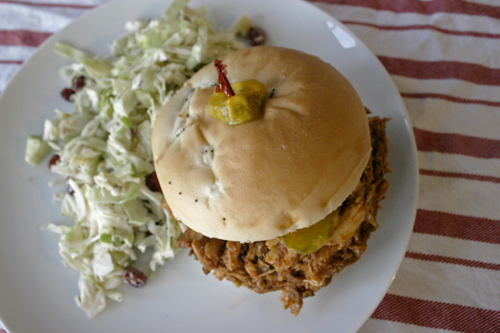 And there you have it: Dinner on the table
even before
Wheel of Fortune comes on. Isn't that always a win?
Chili is very FULL N HAPPY!! Thank YOU Jesus. AMEN
chili out cold