Review of Sweeney Todd
Sweeney Todd: The Demon Barber of Fleet Street (Tim Burton)
2007
Original Musical by Stephen Sondheim based off the book by Hugh Wheeler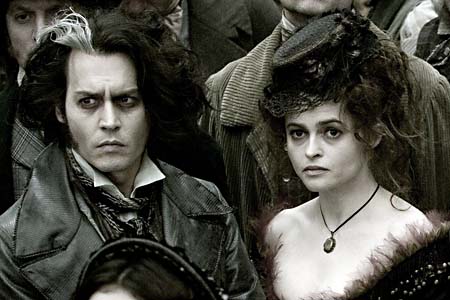 Tim Burton is one of my favorites in the movie industry. His Edward Scissorhands, also staring Johnny Depp (one of my favorite actors), was enjoyable, sweet, and heartbreaking but lovable. Sweeney Todd, the Broadway, award-winning musical by Stephen Sondheim, is none the less impressive, but hard-to-stomach and none the less graphic.

If one were to remove some of the less than favorable scenes, the movie would have probably stayed on my movie shelf. The songs are wonderful, so that was a plus to it, Johnny Depp was interesting as Mr. Todd, the erratic and depressive barber who is still suffering from the loss of his wife.

The whole cast is superb and commands the screen. Helena Bonham Carter is cute in a funny, roundish way, and she was completely convincing as Mrs. Lovett, owner of a nasty meat pie shop. Alan Rickman was Judge Turpin, the one who took Mr. Todd's wife and had a daughter by her, Johanna, who he keeps locked up in his house.

The movie is rather twisted and, if you have a lead stomach, you might be able to sit through this movie without being creeped out for the next week or so. It is enjoyable but graphic, which might bother some and others not. It is enjoyable on a musical basis, and it is surprising Depp has a pleasing voice (and Carter), and the songs are enjoyable and fun to listen to.
​