Shine The Light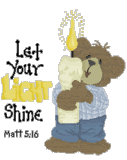 ​
Psalm 27:1...The LORD is my light and my salvation—
whom shall I fear?
The LORD is the stronghold of my life—
of whom shall I be afraid?
Imagine that you have been sitting in pitch blackness for a long while and your friend showed up with a flashlight . We have the light . We have the Light Of Jesus Christ who said " I am the light of the world '' ...John 9:5
Jesus told us we are the light as we reflect Jesus Christ and are His follower. We are the lamp so to speak reflecting His light to the world.
In Matthew 5:16 it says " In the same way , let your light shine before others " Don't hide it . , and don't cover it and don't bury it .
So I am saying to us all ....
Go Shine
​